Samsung Galaxy A70s Review: Any good?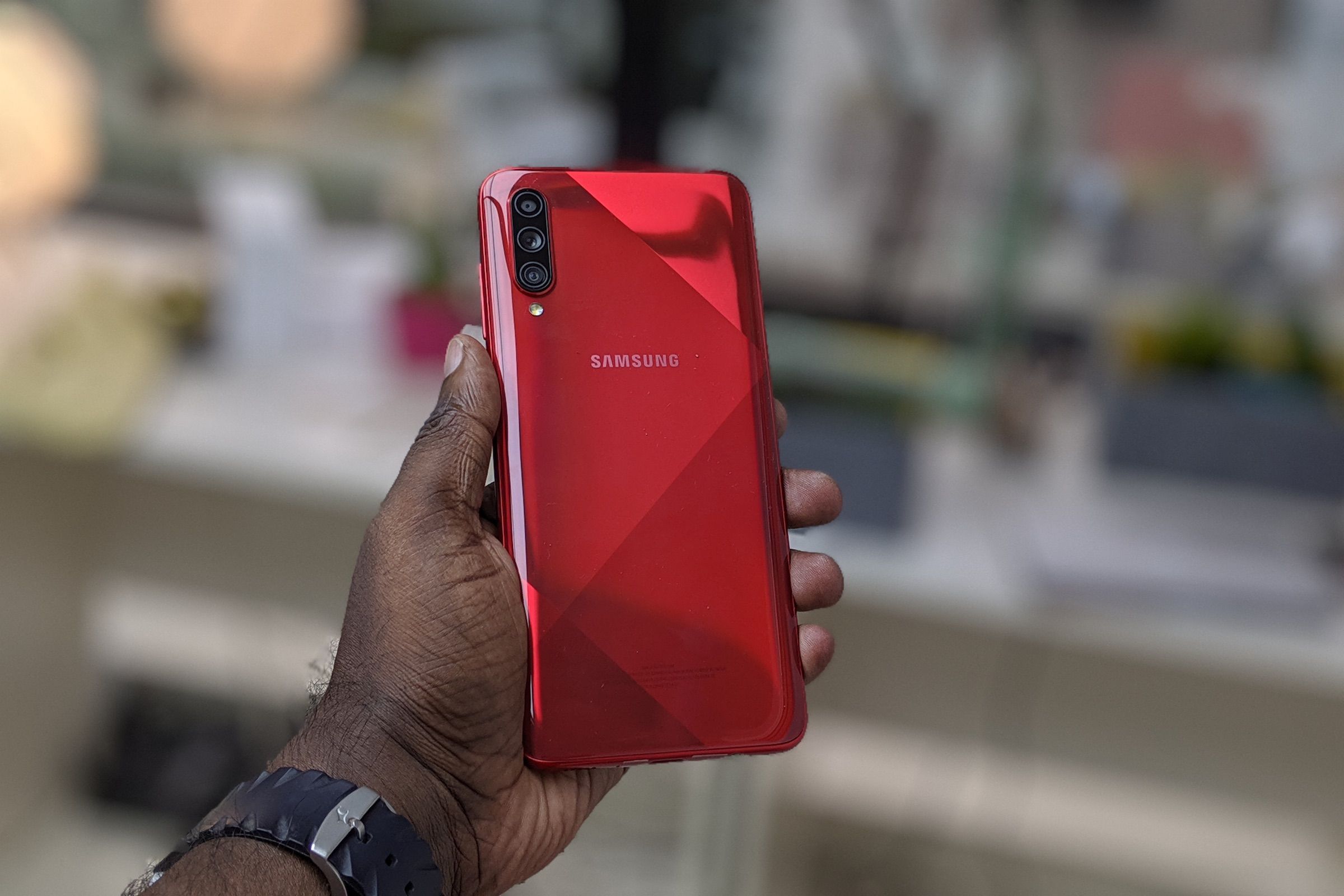 Over the past year and a half, the smartphone mid-range has become incredibly competitive. Flagship features have been brought down to more affordable phones, and Chinese manufacturers like Xiaomi have been hitting hard.
In 2018 however, Samsung sort of missed the mark, and now they're trying to up their mid-range game with their newest A series. However, the 147,000 Naira or $400 depending on where you live, price segment is incredibly competitive. So what does the A70s offer you for the money? Well, this is the Samsung Galaxy A70s review, in this post, I shared my taught, what I think about it and what I have discovered.
But before we begin with the Samsung Galaxy A70s review, let's quickly check out the key specs of the smartphone:
Samsung Galaxy A70s key Specs
6.7 inch Super AMOLED Display, 1080 x 2400 pixels (393 PPI)
Android 9.0 Pie, One UI
Octa-core Qualcomm SDM675 Snapdragon 675
6GB RAM / 8GB RAM
128GB Built-in Storage, expandable via microSD card (up to 512GB)
64 MP + 8 MP + 5 MP Rear Camera and 32 MP Front Camera
Fingerprint Sensor (Under display)
4G LTE Network
4500 mAh Li-Po Non-Removable Battery
Design and Display
The Galaxy A70s is not a small phone, however, it's surprisingly thin for how large it is. The bezels are thin all around, although the bottom one is thicker than the rest and not just small and in contrast with the large screen, you barely notice it.
The plastic back which Samsung calls glasstic has a rainbow gradient when it catches the lights. It looks a little like the color as you'll see from oil spilled on wet asphalt, there's also the main triple camera setup. Thankfully, the cameras don't stick out very much so the phone is wobble when it's on the desk.
The buttons are nice and cliquey, and they're placed in a more intuitive position to the S10 series. However, the phone is still pretty wide. And while One UI helps a lot, it's not the easiest to use one-handed. The Galaxy A70s collects fingerprints pretty easily, but while they're noticeable, the phone doesn't turn into an oil slick.
It tends to be a little slippery, but it's not like a bar of soap and like some phones, still add be pretty careful with it, especially around water, because it has even less IP protection than the original Galaxy A series. As far as biometrics are concerned, there's a face unlock option and an optical fingerprint reader. If you get used to where it is, you can even unlock your phone without needing to turn on the display.
Speaking of the 6.7 inch AMOLED is the biggest selling point of the galaxy A70s, both figuratively and literally. This is the Biggest OLED screen you'll find in the mid-range Galaxy A lineup and even one of the biggest in Samsung's lineup. Aside from the S10 plus 5G, Yeah, it's not quite HD like the S10. But it's a really good display.
It's the decently color accurate and vivid mode and it's pretty much spot on in normal mode. Brightness gets up to 407 nits if you bring it up manually, and if you're on auto mode, it gets up to 607. So sun legibility is great too, ensure media consumption is really good on this device.
Sound and battery
There's a headphone jack on the bottom and the sound isn't bad, but it's not earning any bonus points either. In some markets, there's also NFC for easier Bluetooth connectivity if your headphones aren't wired. And for things like Samsung Pay, there's a tiny earpiece above the notch but it's not used for anything except for calls, there's no stereo speaker setup, and instead, there's a single downward-firing speaker.
It has above-average loudness but isn't particularly rich in terms of sound quality. Sorry for the price range, however, despite being really thin, the A70s is packing a beefy 4500 mAh battery. And surprisingly, it got an impressive 103 hours on our battery life tests. It also includes faster charging the A50 with its 25-watt charger.
Mind you this is faster than the S10 too and you can get from zero to 42% in 30 minutes of charging.
Hardware and software
Performance-wise, the Galaxy A70s performed well. It was about 25% faster and tasks required the CPU than the A50s. However, the A50s was about 10% faster with graphics performance. This is pretty insignificant in day-to-day usage and for most use cases.
But it's interesting to note and it definitely surprised us, the A70s sports an Android pie with their newest one UI on top and classic Samsung style, it's still packed full of customizations and features. However, it's a huge improvement to previous generations because everything is much cleaner, easier to find and perhaps most importantly, much easier to read. With just your thumb.
This is also why the icons are so much larger too. Samsung also has their own gestures which work fine, but honestly, aren't the most intuitive ones we've used. Other than that, you'll still find an always-on display with plenty of options. Digital well-being, a sub-menu that shows you how much you use your phone, and three power moves that give you a lot of control over your power consumption.
Camera
The A70s triple camera setup features a 64-megapixel main sensor, an 8-megapixel ultra-wide lens, and a 5mp depth sensor. Sadly, none of them have OIS. By default, the phone shoots in 12 megapixels, but you can go to settings and change it to 64 instead. However, in high res mode, there's no HDR, and unfortunately takes a second or two longer to get a shot and the high res mode daylight shots aren't bad.
However, detail levels aren't what you'd expect from 64 megapixels. Photos are a bit soft despite software sharpening and though this works for things like grass, you can notice sharpening halos in a couple of places, still, the colors are quite accurate there's good contrast and despite the lack of HDR, dynamic range is good too.
And in the default mode, images are good but detail and sharpness aren't the most impressive you see on mid-ranger. Colors in contrast are quite good and the dynamic range is simply excellent. The ultra-wide lens produces heavily distorted images. Still, it fits a lot in the frame, so it's a small price to pay, colors, in contrast, are excellent, and the dynamic range is improved by the auto HDR, in low light, the 64 megapixel photos are pretty bad, so we'll just stick with the default mode.
However, it still has poor levels of detail. Without HDR the low light photos tend to be overexposed. HDR fixes that but introduces a few issues of its own, among which is uneven sharpness or extra softness, possibly due to the imperfect photo stacking.
In good light, portraits are impressive with no abrupt transitions in the background separation. They're not always perfect, but even flagships make blunders sometimes, different camera results with 64 megapixels one and two shoot 12-megapixel photos by default, images are very detailed and have excellent colors.
Selfie portraits are generally pretty good too but the phone really struggled with my hair. The Galaxy A70s can record 4k videos in 30 FPS. They're nicely detailed and have excellent contrast and dynamic range. The colors are accurate too but sadly there's no electronic stabilization.
In full HD, the footage is great too, clips are highly detailed, sharp, and with little noise. Naturally, colors and dynamic range are as good as in 4k.
Summary
The A70s is a really good all-around phone, the extra-large AMOLED is a rarity and it makes it pretty easy to recommend, however, if you don't need that bigger screen, you don't need that extra bit of battery life then it actually goes with the Galaxy A50s, for 147,000 Naira or less, you get pretty much the same camera performance, the same UI and pretty much the same speed, especially if you get the version with 6 gigs of RAM.
Also if you're more interested in photography and videography, let's get both of these phones to pay 50 bucks more, still, It all depends on what you need the most and all in all the Galaxy A70s is one of the best mid-rangers around.
FOLLOW US BELOW FOR UPDATES
Infinix Hot 10T unveiled in Kenya: Specs and Price
Infinix Mobility after unveiling the Hot 10T in Nigeria, they have now taken the device to Kenya. The Infinix Hot 10T has been unveiled in Kenya. The specifications of the device have already been made through its Nigeria debut. It comes in two storage configurations.
There is 4GB RAM + 64GB ROM version and 4GB RAM + 128GB ROM version. The 64GB variant is priced at KSH 15,499 in Kenya. The 128GB variant is priced at KSH 17,499. It is now available in Kenya for purchase.
Infinix Hot 10T specifications and features
The Infinix Hot 10T comes with a rectangular camera module at the rear which houses two camera sensors. On the front, it has a v-notch cut-out housing the selfie camera. The display of the smartphone is a 6.82inch IPS LCD screen with a resolution of 720 x 1640 pixels.
Under the hood, it is fuelled by the MediaTek Helio G85 SoC. The chipset uses an Octa-core processor clocked at 2.0GHz and it is a 12nm chipset. Graphics or gaming is handled by the capable Mali-G52 MC2 GPU.
The phone is running on the Android 11 operating system. It comes in two storage options which are 4GB RAM and 64/128GB ROM. There is a micro SD card slot for storage expansion. Going to the rear, the smartphone is boasting of a dual camera. The main sensor is 48MP, there is a 2MP depth sensor, and an AI lens.
Hot 10T also has a quad led flash at the rear and it can record in 2k@30fps maximum. Upfront, the device has a single camera. The sensor is 8MP which has an f/2.0 aperture. The front camera makes use of the dual led flash in low light.
What is keeping the light on is a 5,000mAh battery that supports 10W slow charging. There is a rear-mounted fingerprint scanner for security. Other features of the device include a 4G network, WiFi, Bluetooth 5.0, GPS, and USB on the go. Sensors include accelerometer, gyro, proximity, and light. Finally, it measures 171.5 x 77.5 x 9.2 mm and weighs 190 grams.
FOLLOW US BELOW FOR UPDATES
Romoss Sense 8P+ 30,000mAh Power Bank Review
If you live in a place where there is no constant power supply, there is a very good need for a power bank. Not just a power bank but a very good sustainable power bank. That's why I went out to research and found this 30,000mAh power bank dubbed the Romoss Sense 8P Plus power bank. There are lots of Romoss power banks out there but I just decided to go for this one. So this is my honest Romoss Sense 8P+ 30,000mAh power bank review. But before then, let me show you what you will get in the box.
What's inside the box of Romoss Sense 8P+ 30,000mAh power bank?
Inside the box of the power bank, it is very simple. What you get are the:
Power Bank itself
User Manual
That's all you get in the box. Yes, it doesn't come with a charger in the box, you will need to buy one but read till the end, I will recommend a charger that I use.
Body and design
The first thing I noticed when I held this power bank is its heaviness. Yes, the power bank is heavy and I know it's because of the 30,000mAh power inside. It can't fit in your pocket, you will only need to keep it in one place and charge your device. If you need to go out with it, then you definitely need a backpack.
For me personally, I have never had a problem with that because I will just keep it one place and plug my phone in, no big deal. At the front, you can see that it has a display.
All the power banks that I have used in the past don't have a display and that makes it very hard to determine the battery percentage left. Thankfully, this one came with a display so it is easy to tell the level of the battery left. At the top of the Romoss Sense 8P 30,000mAh power bank, you can see five ports.
You can refer to the diagram below to know what the ports are.
How long does it last?
This the best power bank ever. The 30,000mAh is indeed 30,000mAh unlike all those fake power banks out claiming to have such numbers. To tell you how long it lasts, I have a 4000mAh battery smartphone and this power bank charges it 6 good times! It is not an exaggeration but that's the fact. I charged the power bank to 100% and plugged my 4000mAh smartphone that is at 0% and left. I came back later and my smartphone is at 100%.
I checked the battery percentage of the power bank and it is
84%. That means my smartphone took 16% of the battery from the Power bank to get full. As I showed you in the diagram above, the power bank has fast charging support. It took 1 hour and 53 minutes to fully charge my phone. Note that your smartphone needs to have a fast-charging capability for it to charge it fast. If your smartphone doesn't support fast charging, then it is not going to fast charge it.
That will take 2 hours and 40 minutes to charge if your smartphone doesn't support fast charging. But hey, this is 2021 and I know a lot of you have a fast-charging smartphone. In case you are wondering, my phone supports 18w fast charging.
How long does Romoss sense 8p+ take to re-charge?
I tried so hard to kill the power bank and that took me 3 days to kill just to know how long it takes to recharge back. I used an 18W charger plugged into the wall socket and it took 11 hours to fully charge this power bank. Yes, the Romoss sense 8p+ takes a very long time to recharge. Like I said before, the power bank doesn't come with a charger in the box. So I bought a separate 18W Romoss charger for it.
The charger costs 5000 Naira ($10) at the time of writing while the Power bank costs 19,000 Naira ($40). If you wish to buy it, you can contact us through social media and we will send it to you.
Conclusion
To conclude, the Romoss Sense 8p+ is the best power bank you can buy today without a headache. I have used it for close to 7 months now but no single problem or whatsoever. The only downside is that it doesn't come with a charger. Have any questions? Please feel free to leave them in the comment below and we will get back to you as fast as possible.
FOLLOW US BELOW FOR UPDATES
Realme X50m Review: Should you buy it?
Realme X50m kind of looks like the lite version of the X50 and X50 Pro. It was launched on April 23rd last year after the X50 and X50 Pro. The smartphone really resembles the Realme 6 smartphone from the rear. It borrows the Realme 6 back design. The X50m is an upper midrange device that comes with an attractive price tag.
It has a powerful midrange chipset, quad rear cameras that are capable of taking good quality pictures, 5G Network, full HD+ resolution display and a bigger battery capacity to ensure you don't stay out of power. In this post, you are going to discover many things about the Realme X50m. Before then, let me quickly give you some key specifications of the device.
Realme X50m Key Specs and Features
IPS LCD Display; 6.57inches 1080 x 2400 pixels, 20:9 ratio (~399 PPI density)
Realme UI based Android 10
Octa-core Qualcomm SDM765 Snapdragon 765G (7 nm)
6-giga byte RAM /8-giga byte RAM
128-gigabyte /128-gigabyte Built-in Storage up to 512GB Memory Card
Quad rear cameras of 48 MP + 8 MP + 2 MP + 2 MP.
Front or selfie camera of 16 + 2-mega pixels.
4G LTE Network
5G Network
Fingerprint Scanner (Side Mounted)
Fast Charging 30W
Non-Removable Li-Ion 4,200mAh battery
Design
The Realme X50m comes with a very beautiful design and I like how the gradient line meets towards the button. This is the same design that we saw on the Realme 6. Like I mentioned earlier, X50m borrows its design from the Realme 6. So if you have seen the Realme 6, then you have seen the Realme X50m.
It has a vertical module at the rear which is a home for quad cameras. Single LED flash is just beside the module while Realme branding is way below the button, indicating that this is a Realme device. It has an 8.9mm thickness which means it will be very sturdy in the hand.
The width size is 75.8mm and the length size is 163.8mm. The smartphone is a bit heavy at 194grams. It uses a Dual Nano SIM slot only, there is no slot for a MicroSD card. It is currently available in two colours which are Starry Blue and Galaxy White, I prefer the Starry Blue colour option.
It's bigger brother, the X50 comes with the same body dimensions but it now has more weight. It weighs 202grams which means it is 8grams heavier than the X50m. That X50 is just available in Glacier and Polar colours. Their biggest brother, the X50 Pro comes with the smallest dimensions and available in two colours which are Moss Green and Rust Red colours.
Display
The X50m comes with a horizontal punch hole cut out above the left side of the screen. It comes with a horizontal cut out because the smartphone uses a dual selfie cameras. The horizontal cut out doesn't look bad but instead, it makes it more modern and premium looking in the eyes.
If not for the dual selfie cameras, it would have made use of the regular circular punch hole cut-out. The smartphone has a small chin and bezels. That's why it has a screen to body ratio of 84.8%. It uses an IPS LCD display which has a screen size of 6.57inches.
The display of the X50m produces a full HD+ resolution of 1080 x 2400 pixels. There is a pixel per inch density of 399. It also refreshes at 120Hz surprisingly. The display is tall and it has an aspect ratio of 20:9. While it's the elder brother, the X50, has this same screen features, the X50 Pro comes with a lesser one.
X50 Pro comes with the smallest display size in the X50 family. It has a 6.44inch display size but now proves it's self as a Pro version indeed by having a Super AMOLED panel with a resolution of 1080 x 2340 pixels and pixels per inch density of 409. With this, no doubt, the display of the X50 Pro will be better than that of the X50m and X50 as expected.
Hardware and Software
Under the hood, the Realme X50m is powered by a Qualcomm SDM765 Snapdragon 765G (7 nm) chipset which uses an Octa core processor clocked at 2.4GHz for the first core, 2.2GHz for the other 1 core and 1.8GHz for the last six cores. It is running on the Realme user interface with the Android 10 operating system.
Along with the Android 10 operating system, there is an Adreno 620 GPU taking care of graphics or gaming. The X50m comes in two storage configurations which are 6-gigabyte RAM and 128-gigabyte ROM or an 8-gigabyte RAM and 128-gigabyte ROM. Like I said earlier, there is no slot for a MicroSD card, so you are limited to 128GB internal storage.
The X50 also runs on this hardware but the X50 Pro runs on a Snapdragon 865 chipset having an Octa core processor clocked at 2.84GHz for the first core, 2.42GHz for the other three cores and 1.8GHz for the last four cores. It also runs on the Realme UI 1.0 user interface based on the Android 10 operating system.
So the X50m smartphone chipset is very efficient but the one in the X50 Pro is more efficient. The X50m and the standard X50 runs on the same chipset but it is only the X50 Pro that strongly proved itself as a Pro and runs on a Snapdragon 865 chipset. So it will be faster than the X50m and the X50.
Camera
For photography lovers, the Realme X50m comes with a quad rear camera which includes a 48-mega pixels main camera with f/1.8 aperture, 8-mega pixels ultra-wide with f/2.3 aperture, 2-mega pixels macro camera with f/2.4 aperture and a 2-mega pixels depth sensor with f/2.4 aperture. On the front, it has 16-mega pixels + 2-mega pixels selfie cameras.
The rear camera has only a single led flash and it can shoot videos in 2160p@30fps and 1080p videos at 30 frames per second. The front camera can only shoot videos in 1080p@30fps. It's elder brothers, the Realme X50 and X50 Pro comes with a much better camera capable of taking high-quality pictures.
They come with a 64-mega pixels main camera with f/1.8 aperture, 12-mega pixels telephoto lens with f/3.0 aperture, 8-mega pixels ultra-wide camera with f/2.3 aperture and a 2-mega pixels depth sensor with f/2.4 aperture. On the front, X50 has 16 + 8-mega pixels selfie cameras while X50 Pro has 32 + 8-mega pixels selfie cameras.
So you can see that it's elder brothers can take a better image quality than him. Like I said before, the X50m is the smallest version of the X50 family, it looks like a lite version of them so we expect it's specifications or features to be inferior to the X50 and X50 Pro smartphones.
Battery, Security and Connectivity
Coming to where the X50m derives energy, it is from a 4,200mAh battery that supports 30W fast charging. The battery is said to last for a full day depending on the usage. If it is used heavily, it will run down fast but if it is properly used, it will take you for a full day.
Even if it runs down fast, you still have an option to recharge it fast again under one hour and a few minutes since it supports 30W fast charging. A fingerprint sensor for security is located at the side of the phone. Connectivity options includes Wi-Fi 802.11, Bluetooth 5.0, GPS and NFC.
Conclusion
The X50m is a very good upper-midrange device to get as it will satisfy all your needs. If you don't have enough money to get the X50 and X50 Pro, this one will be a very good choice. It is priced at 103,000 Naira but it is not yet available in Nigeria as of the time of writing this post.
FOLLOW US BELOW FOR UPDATES