Over the past year and a half, the smartphone mid-range has become incredibly competitive. Flagship features have been brought down to more affordable phones, and Chinese manufacturers like Xiaomi have been hitting hard.
In 2018 however, Samsung sort of missed the mark, and now they're trying to up their mid-range game with their newest A series. However, the 147,000 Naira or $400 depending on where you live, price segment is incredibly competitive. So what does the A70s offer you for the money? Well, this is the Samsung Galaxy A70s review, in this post, I shared my taught, what I think about it and what I have discovered.
But before we begin with the Samsung Galaxy A70s review, let's quickly check out the key specs of the smartphone:
Samsung Galaxy A70s key Specs
6.7 inch Super AMOLED Display, 1080 x 2400 pixels (393 PPI)
Android 9.0 Pie, One UI
Octa-core Qualcomm SDM675 Snapdragon 675
6GB RAM / 8GB RAM
128GB Built-in Storage, expandable via microSD card (up to 512GB)
64 MP + 8 MP + 5 MP Rear Camera and 32 MP Front Camera
Fingerprint Sensor (Under display)
4G LTE Network
4500 mAh Li-Po Non-Removable Battery
Design and Display
The Galaxy A70s is not a small phone, however, it's surprisingly thin for how large it is. The bezels are thin all around, although the bottom one is thicker than the rest and not just small and in contrast with the large screen, you barely notice it.
The plastic back which Samsung calls glasstic has a rainbow gradient when it catches the lights. It looks a little like the color as you'll see from oil spilled on wet asphalt, there's also the main triple camera setup. Thankfully, the cameras don't stick out very much so the phone is wobble when it's on the desk.
The buttons are nice and cliquey, and they're placed in a more intuitive position to the S10 series. However, the phone is still pretty wide. And while One UI helps a lot, it's not the easiest to use one-handed. The Galaxy A70s collects fingerprints pretty easily, but while they're noticeable, the phone doesn't turn into an oil slick.
It tends to be a little slippery, but it's not like a bar of soap and like some phones, still add be pretty careful with it, especially around water, because it has even less IP protection than the original Galaxy A series. As far as biometrics are concerned, there's a face unlock option and an optical fingerprint reader. If you get used to where it is, you can even unlock your phone without needing to turn on the display.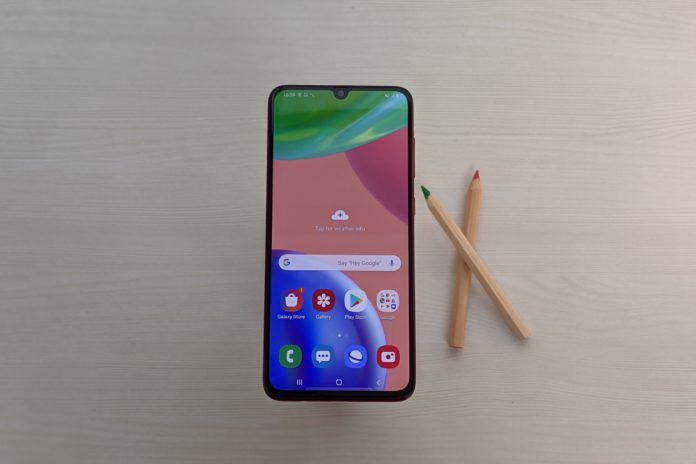 Speaking of the 6.7 inch AMOLED is the biggest selling point of the galaxy A70s, both figuratively and literally. This is the Biggest OLED screen you'll find in the mid-range Galaxy A lineup and even one of the biggest in Samsung's lineup. Aside from the S10 plus 5G, Yeah, it's not quite HD like the S10. But it's a really good display.
It's the decently color accurate and vivid mode and it's pretty much spot on in normal mode. Brightness gets up to 407 nits if you bring it up manually, and if you're on auto mode, it gets up to 607. So sun legibility is great too, ensure media consumption is really good on this device.
Sound and battery
There's a headphone jack on the bottom and the sound isn't bad, but it's not earning any bonus points either. In some markets, there's also NFC for easier Bluetooth connectivity if your headphones aren't wired. And for things like Samsung Pay, there's a tiny earpiece above the notch but it's not used for anything except for calls, there's no stereo speaker setup, and instead, there's a single downward-firing speaker.
It has above-average loudness but isn't particularly rich in terms of sound quality. Sorry for the price range, however, despite being really thin, the A70s is packing a beefy 4500 mAh battery. And surprisingly, it got an impressive 103 hours on our battery life tests. It also includes faster charging the A50 with its 25-watt charger.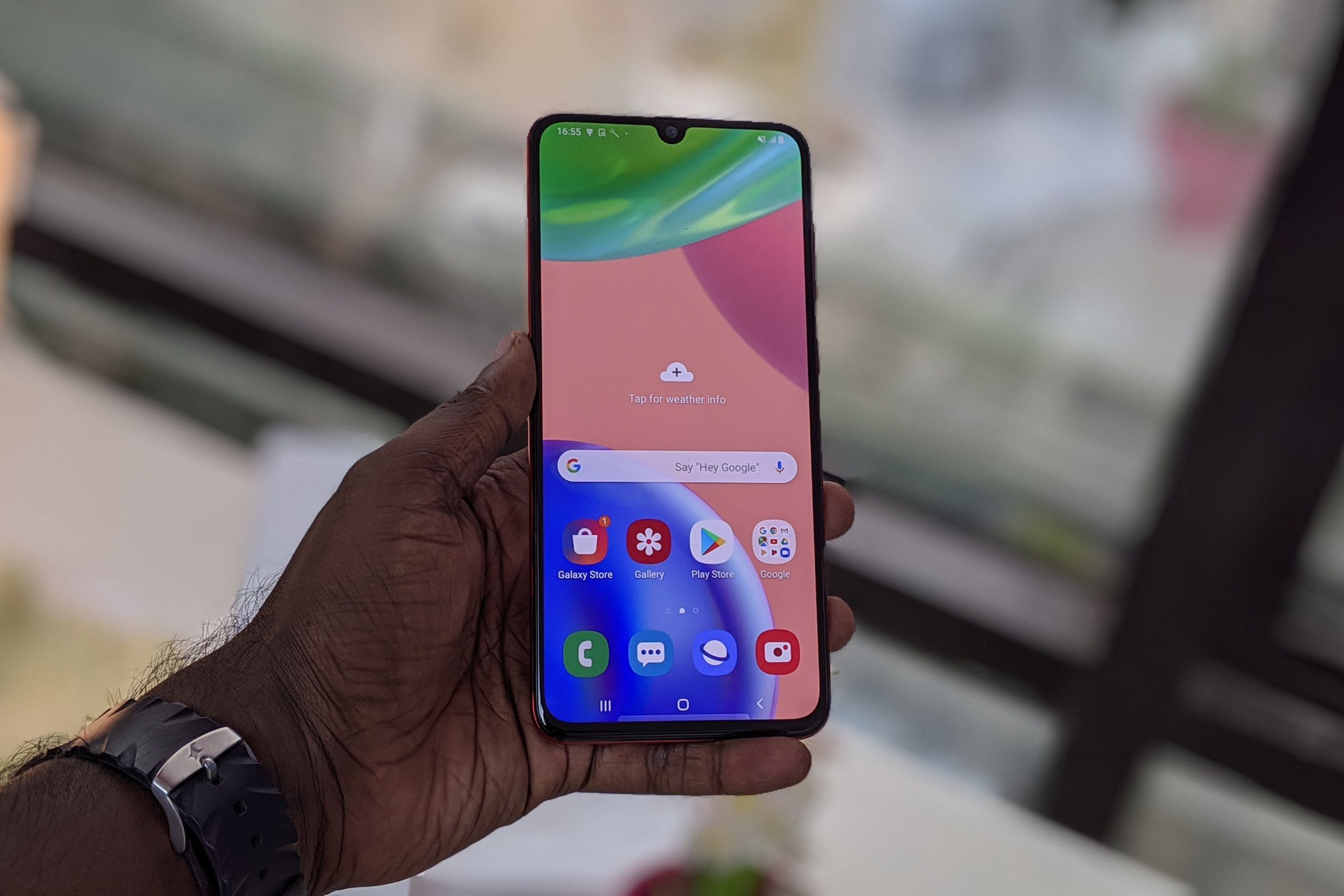 Mind you this is faster than the S10 too and you can get from zero to 42% in 30 minutes of charging.
Hardware and software
Performance-wise, the Galaxy A70s performed well. It was about 25% faster and tasks required the CPU than the A50s. However, the A50s was about 10% faster with graphics performance. This is pretty insignificant in day-to-day usage and for most use cases.
But it's interesting to note and it definitely surprised us, the A70s sports an Android pie with their newest one UI on top and classic Samsung style, it's still packed full of customizations and features. However, it's a huge improvement to previous generations because everything is much cleaner, easier to find and perhaps most importantly, much easier to read. With just your thumb.
This is also why the icons are so much larger too. Samsung also has their own gestures which work fine, but honestly, aren't the most intuitive ones we've used. Other than that, you'll still find an always-on display with plenty of options. Digital well-being, a sub-menu that shows you how much you use your phone, and three power moves that give you a lot of control over your power consumption.
Camera
The A70s triple camera setup features a 64-megapixel main sensor, an 8-megapixel ultra-wide lens, and a 5mp depth sensor. Sadly, none of them have OIS. By default, the phone shoots in 12 megapixels, but you can go to settings and change it to 64 instead. However, in high res mode, there's no HDR, and unfortunately takes a second or two longer to get a shot and the high res mode daylight shots aren't bad.
However, detail levels aren't what you'd expect from 64 megapixels. Photos are a bit soft despite software sharpening and though this works for things like grass, you can notice sharpening halos in a couple of places, still, the colors are quite accurate there's good contrast and despite the lack of HDR, dynamic range is good too.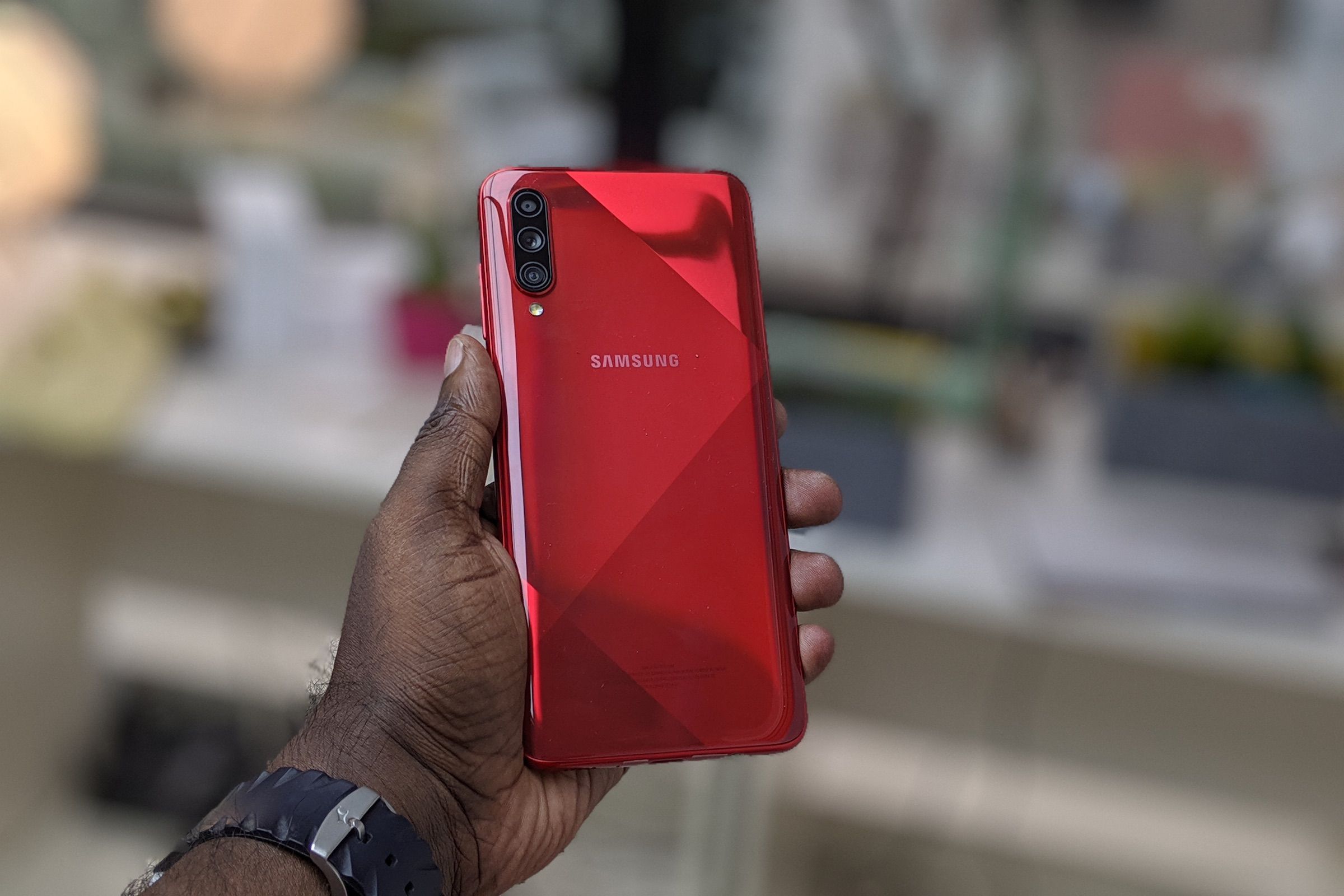 And in the default mode, images are good but detail and sharpness aren't the most impressive you see on mid-ranger. Colors in contrast are quite good and the dynamic range is simply excellent. The ultra-wide lens produces heavily distorted images. Still, it fits a lot in the frame, so it's a small price to pay, colors, in contrast, are excellent, and the dynamic range is improved by the auto HDR, in low light, the 64 megapixel photos are pretty bad, so we'll just stick with the default mode.
However, it still has poor levels of detail. Without HDR the low light photos tend to be overexposed. HDR fixes that but introduces a few issues of its own, among which is uneven sharpness or extra softness, possibly due to the imperfect photo stacking.
In good light, portraits are impressive with no abrupt transitions in the background separation. They're not always perfect, but even flagships make blunders sometimes, different camera results with 64 megapixels one and two shoot 12-megapixel photos by default, images are very detailed and have excellent colors.
Selfie portraits are generally pretty good too but the phone really struggled with my hair. The Galaxy A70s can record 4k videos in 30 FPS. They're nicely detailed and have excellent contrast and dynamic range. The colors are accurate too but sadly there's no electronic stabilization.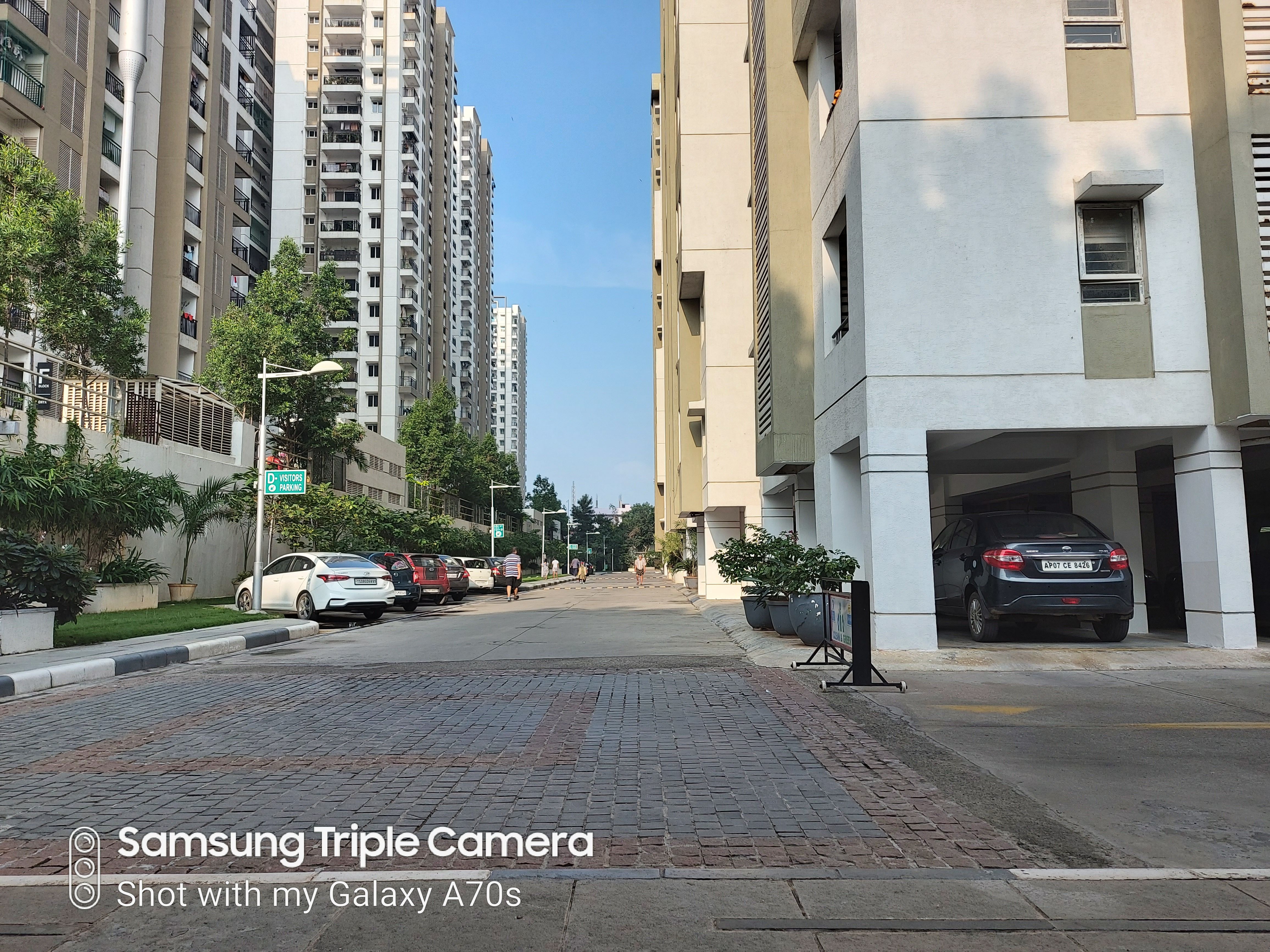 In full HD, the footage is great too, clips are highly detailed, sharp, and with little noise. Naturally, colors and dynamic range are as good as in 4k.
Summary
The A70s is a really good all-around phone, the extra-large AMOLED is a rarity and it makes it pretty easy to recommend, however, if you don't need that bigger screen, you don't need that extra bit of battery life then it actually goes with the Galaxy A50s, for 147,000 Naira or less, you get pretty much the same camera performance, the same UI and pretty much the same speed, especially if you get the version with 6 gigs of RAM.
Also if you're more interested in photography and videography, let's get both of these phones to pay 50 bucks more, still, It all depends on what you need the most and all in all the Galaxy A70s is one of the best mid-rangers around.